Oyster mushroom farm van Lieshout came to us with the question if we wanted to help with a renovation of the growing rooms.
A high relative humidity and high temperature must be maintained to cultivate oyster mushrooms. A warm and moist climate is perfect to grow the oyster mushrooms quickly. Unfortunately that is also a good environment for walls to become dirty and for the emergence of rust in the underlying construction. For these objects we have created our vapourtight coating system. Another important reason for the application of our coating is to maintain the climate of one growing room in one room, so that possible infections are limited to one room.
Request
First we have visited the company to record the necessary work activities. There was already a vapourtight coating system on the aerated concrete walls, which was up to renewal. During our visit, we decided that the walls should be provided with a new layer of CorrFill Indoor Coat. Next to that, the corner joints and window frames must be sealed with our vapourtight coating system.
Phasing
As not all rooms could be treated in the same time, we planned to treat about two rooms per week. In this way, the work activities of the oyster mushroom farm could continue as well.
The substrate had to be dry to apply our coating, so that no moisture was trapped under the coating layer. As there was already a layer of coating on the walls, the coating could be applied immediately without use of a primer. In the corners, a primer is applied to the bare pieces of concrete. After that, the corners are provided with a layer of CorrFill Indoor Coat, where CorrFill Fleece ZG gives reinforcement to the system. A second layer of CorrFill Indoor Coat seals the system well and ensures the desired vapour density.
Result
In total we have treated 6 rooms during five weeks. Because of a leakage in the cavity, two floor joints came loose during the last phase of the project. After having treated these again, the project was completely finished.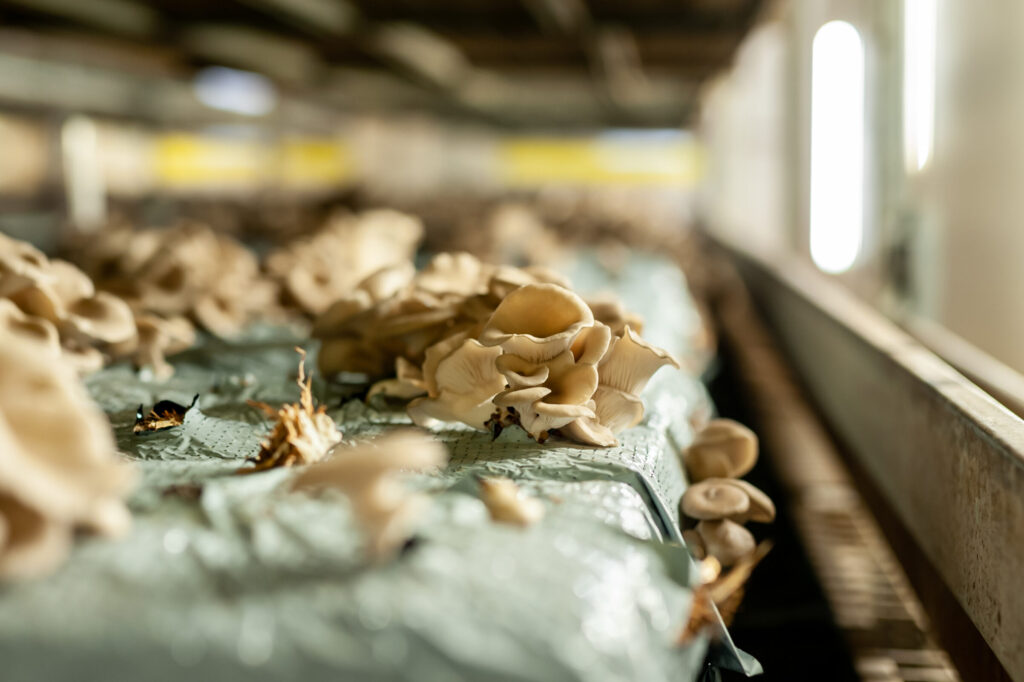 Our mushroom farm was built in 1981. A few years ago we switched from mushroom to oyster mushroom cultivation. Because we wanted to replace our fluorescent tubes with LED lamps, we decided to have the walls sprayed white again. We contacted Ribbstyle for this. They looked at what had to be updated in addition to spraying before they could start spraying. The staff is knowledgeable and works neatly. We are very satisfied with the result.