Request
Elf Farm Supplies Pty Ltd, (EFS), is a family owned business certified to supply Phase 3 organic compost (substrate) to the Australian mushroom industry. As industry leaders, they are committed to continual improvement and environmentally sustainable practice. In 2003, EFS purchased our products to treat 13 new Phase 2/3 tunnels by themselves. In 2009, EFS extended their Phase 2/3 facility by building 9 new tunnels and we supplied product and performed the application.
In December 2016, we were invited to visit EFS in Australia and discuss the new works under construction. EFS contracted us to supply and apply our vapourtight coating system in a new Phase 2/3 building with 9 tunnels.
Lastly, in 2017, we supplied product and treated the ceilings of 10 new prewet and Phase 1 tunnels. The product was applied as a preventative measure against chemical attack in the concrete roof structure. These are the first tunnels in the world treated in this way.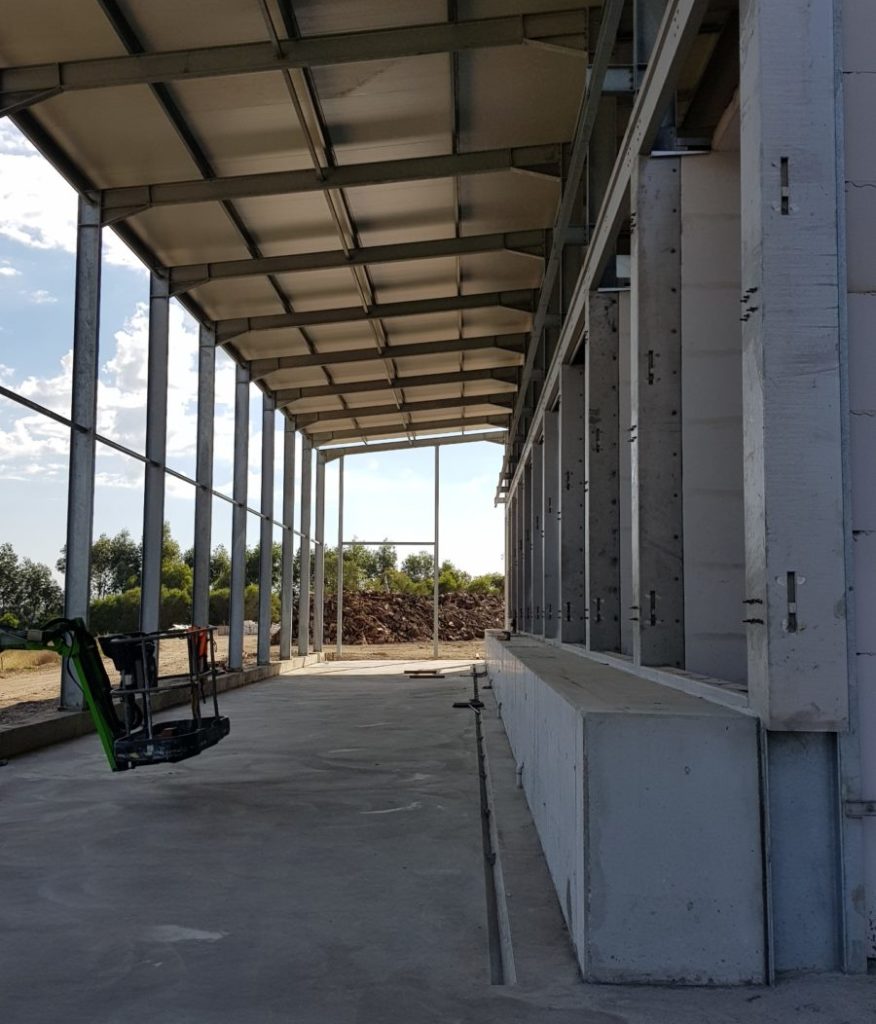 Elf Farm Supplies now has a 15 year history working with RibbStyle, completing a number of projects including both construction and refurbishment work. We appreciate the cooperation and "no problems" attitude of the RibbStyle team, along with products and treatment systems that are performing well in our Mushroom Composting facility.
Phases
Each part of the tunnel requires appropriate protection.
Floor
The floor is treated with CorrFill Primer PA and CorrFill Indoor Coat. In the dilatations and joints the fleece CorrFill Fleece ZG is used in two widths, 10 cm and 100 cm. Finally, the floor is provided with the top coat CorrFill Limbercoat, which protects the floor against mechanical and chemical influences.
Grid carrier
This part of the compost tunnel is treated with CorrFill Primer PA and CorrFill Indoor Coat. In the joints the fleece CorrFill Fleece ZG is used.
Walls and ceilings
The walls and ceilings are both treated with a primer for aerated concrete, CorrFill Primer BN. After drying, the vapourtight coating CorrFill Indoor Coat is applied. CorrFill Fleece ZG of 10 cm width is used in the joints and CorrFill Fleece ZG 100 cm width is applied on the total surface of the walls and ceilings. The walls are also coated with the protective top coating CorrFill Limbercoat. This protects the walls from stones, twigs and such.
Completion
During the six weeks, there were several moments in which we had contact with Elf Farm to discuss the planning and to inform them about the progress. Also, in the evening someone often came to view the results. After finishing, we walked through the terrain and compost tunnels to see if everything was carried out as desired.