The request
Frigo Nieuw-Vennep B.V. is a logistic services company that stores refrigerated and frozen food products. In Nieuw-Vennep, the company owns several cold stores to be able to store foods of their customers. As the company was looking into possibilities to reduce energy costs, it found that a tretament of the roof with a reflective roof coating could play a significant role in energy savings. It would reflect the solar rays, reducing the heat below the roof and resulting in less cool actions. In this way, Frigo requested us to provide a solar reflective coating on their roof.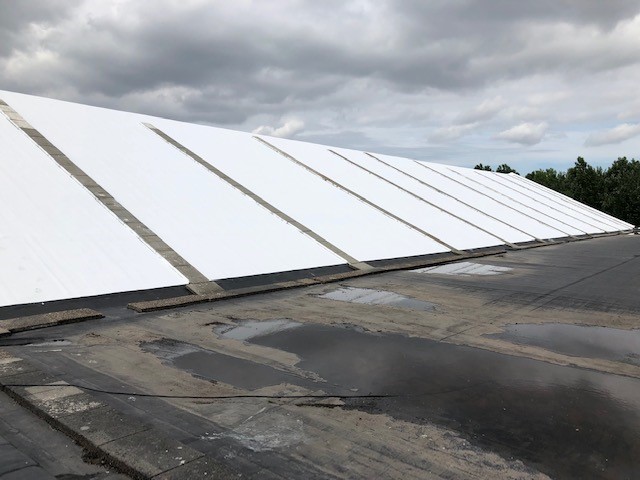 Phasing
At first, the EPDM roof was cleaned by spraying under high pressure. The surface had to be completely clean and dry before application. Important aspects to be considered before application of a roof coating are the installation of enough roof ventings and gradient to absorb or drain rainwater and prevent the development of condensation under the roof covering.
After drying, the roof was treated with one layer of ProFill Roof Coat Plus. This coating serves as a primer for the reflective roof coating Adgreencoat. The adgreencoat is applied with a special technique to work more efficiently, a brush fitted to our airless spraying machine, to roll the coating quickly and evenly on the roof surface.
Completion
The project started last year already. However, to apply this coating system to the roofs at Frigo Nieuw-Vennep B.V., the weather conditions had to be good. This was not always the case and therefore the project lasted longer than predicted. With a dry surface, we can be sure of a good and long-lasting application of the coating system.