Airtight construction
Airtight construction has become more and more important over the years to save energy and achieve a complete control of the climate. Airtight construction considers the elimination of unintended building gaps, through which unwished air is flowing. Airtight construction is typically achieved by using airtight objects to make up the building such as wall systems and windows, but for any objects such as joints or seams, RibbFill Airtight XT enhances airtight construction. The airtight coating provides an airtight seal on almost every substrate and can be used for indoor and outdoor airtight construction.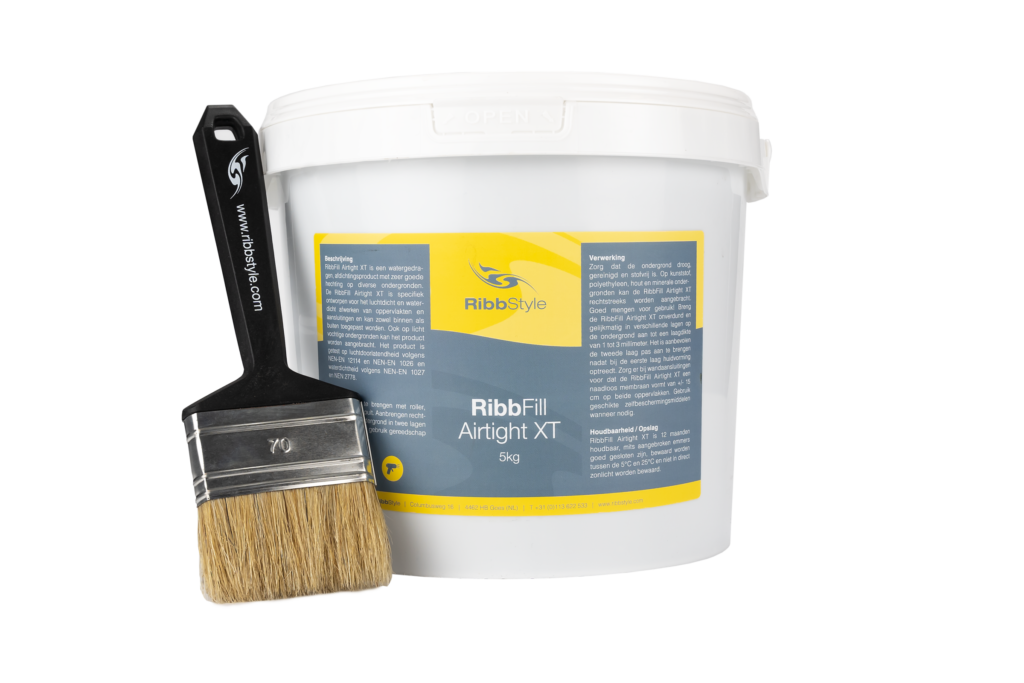 Building airtight with RibbFill Airtight XT
Our airtight coating RibbFill Airtight XT is a waterborne, durable and airtight coating for sealing surfaces and connections. After drying, it forms a resistant, rubbery and elastic layer. Due to the adhesion to even slightly damp surfaces, the product can almost always be used!
Outdoor applications:
Sealing seams of frames and facades
Connections of roofs to facades and walls
Seams outside and roof ridges
Tubing and sealing of windows and doors
Benefits:
Elastic over 200%
Seamless, flexible, ideal for difficult corners
Airtight and vapor barrier
No pre-treatment or bonding primer required
Adhesion on almost all and also slightly damp surfaces
Short drying time
The airtight coating is available in a hand-held 5 kg bucket, making it very easy to take with you on construction sites! Easy to apply with roller or brush. Also possible to have this coating applied by the Ribbstyle team. We are VCA, ISO 9001 and ISO 14001 certified.
Receive a brochure?
Fill in our contact form or call us on +31 113 622 533 for more information.